Special systems of fire extinguishing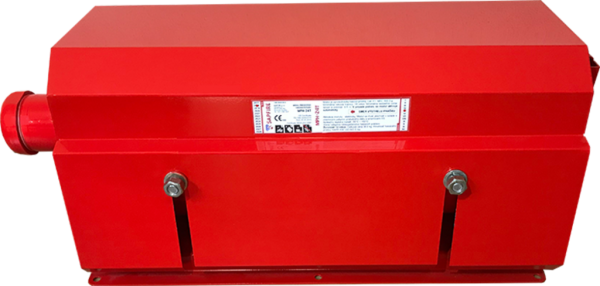 Modules in the transport modifications
MPH modules in tranport modifications are marked as T (MPH-2.8T, MPH-24T, MPH-5T and are produced in red color.
Modules are to be used in technological locations (production), vehicles and technical motorized vehicles, because they are produced to withstand harsh environment (gases, acidic environment, high temperature) and vibrations through the usage of compensation cushions. Modules may also be used in mines, because it is possible to equip them with a "SuperSeal" connector "SuperSeal", which eliminates the possibility of the electrical interference during the activation of modules.
These modules can also be equipped with a routing pipe directing the powder impact (MPH-2.8T), in the way that the powder reaches the motor compartment of the vehicles or machines, while the modules are installed in the safe distance (of vehicles, lorries, trains, drills).
In case of usage in highly aggresive location, it is possible to equip the module with additional outer cover, which will protect outer casing of the module.
Modules in the T modification are also used in systems Raptor and Ranger.
APPS MPH-5T
APPS MPH-5T is autonomous and automatic system of fire extinguishing. Thanks to supporting pad with vibration compensation function, it is possible to lay the system directly on the place of protection without any further installation or fixation.
System is engineered for usage and protection of cable channels, attics, plasterboard ceilings, but can also be used on places where it is not possible to install the system using the stable installation measures.
System activates at temperature, which depends on the type of TPS-01T sensor, which is mounted on the front side of the system (73, 93, or 110 defrees Celsium).
System shoots powder radially around its own axis because of this, during the extinguishing there is no pushback created.
Systém môže byť tiež vybavený konektorom "SuperSeal", ktorý umožňuje použitie systému v mines.
| Autonomous system APPS MPH-5T | |
| --- | --- |
| Protected surface for fires of class A | |
| Protected volume for fires of class A | |
| Protected surface for fires of class B | |
| | |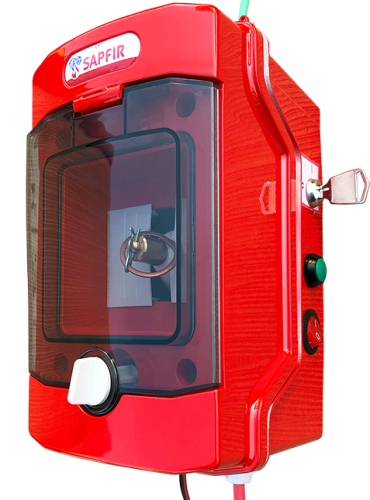 Lightning and sound alarm systems SA-01
SA-01 is a family of universal lightning and sound alarm systems. It is modular and can therefore be used in any interior or exterior locations and systems.
Elements of a system are built in a way to enable the creation of unique but simple alarm system, which exactly suits client's needs for each single project and almost any situation.
System may consists of one or multiple lightning and sound beacons, which may be activated by TPS-01 as a warning, or directly with activation of fire extinguishing systems based on MPH.
System may work autonomously or in connection with already existing fire panel. System may be powered by electrical network of 230V or battery.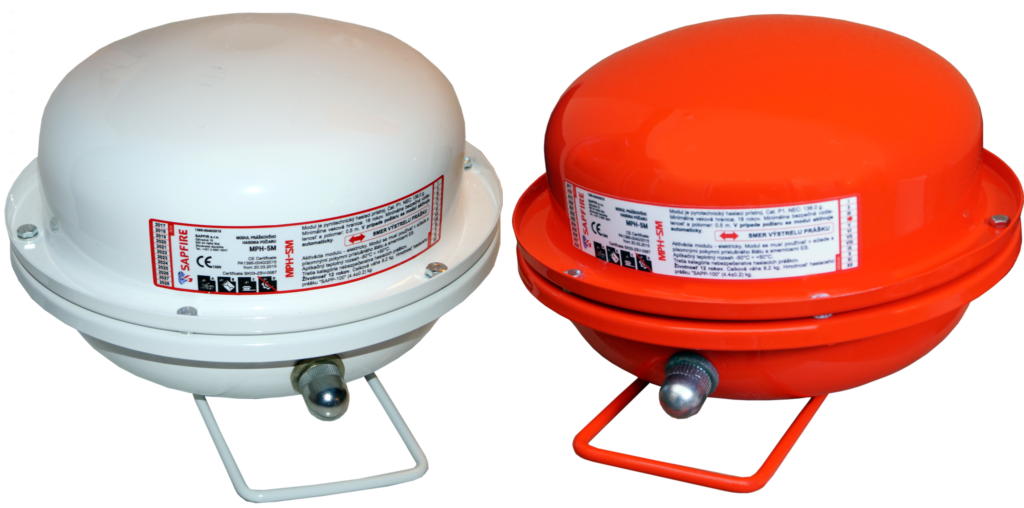 Manual system of powder fire extinguishing MPH-5M
MPH-5M is a complete manual system of fire extinguishing, which consists of a module MPH-5M internal activator TPS-04 and a handle.
In case of fire, it is possible to activate a system with opening of a safety cap and release of the activation pin and throwing the system into the hotbed of fire.
System is suitable for fire suppression up to the arrival of a fire-fighters or for to open the escape route.
Thanks to the simple installation and practical mount, system is suitable for installation on a vehicle (dustmen, police, fire-fighters) or a wall (production lines, underground parkings).
| Fire extinguishing ability of MPH-5M | |
| --- | --- |
| Protected surface for fires of class A | |
| Protected volume for fires of class A | |
| Protected surface for fires of class B | |
| Protected surface for fires of class B | |